I think we're all familiar with grid plans in cities. Streets and avenues. But outside cities? I remember what seemed to be to be far out of town "5 Mile Rd" and "10 Mile Rd" as a kid in Boise, ID. But, I never quite thought long and seemingly endless numbered and gridded roads were common in the country. They seemed like a town thing.
This summer we drove across the USA - East to West to East over six weeks. One day we drove from Minneapolis, MD to Sioux Falls, SD and I noticed that there were roads like "501st Ave" intersecting our little highway a couple hours West of Minneapolis, the numbers steadily increasing as we drove further out of the city. I thought "We don't have those in NC!" It got me thinking about how these might differ around the country. I resolved to do some exploratory mapping when I got a moment.
I've been home a few weeks, and had a few spare hours to explore these 'alphanumeric' roads in Minnesota and other states around the country. There are several kinds of 'alphanumeric' road patterns: 15th St, NW 31st Ave, Avenue Q of course, Fourth St. I downloaded some census map data, and created some maps in R.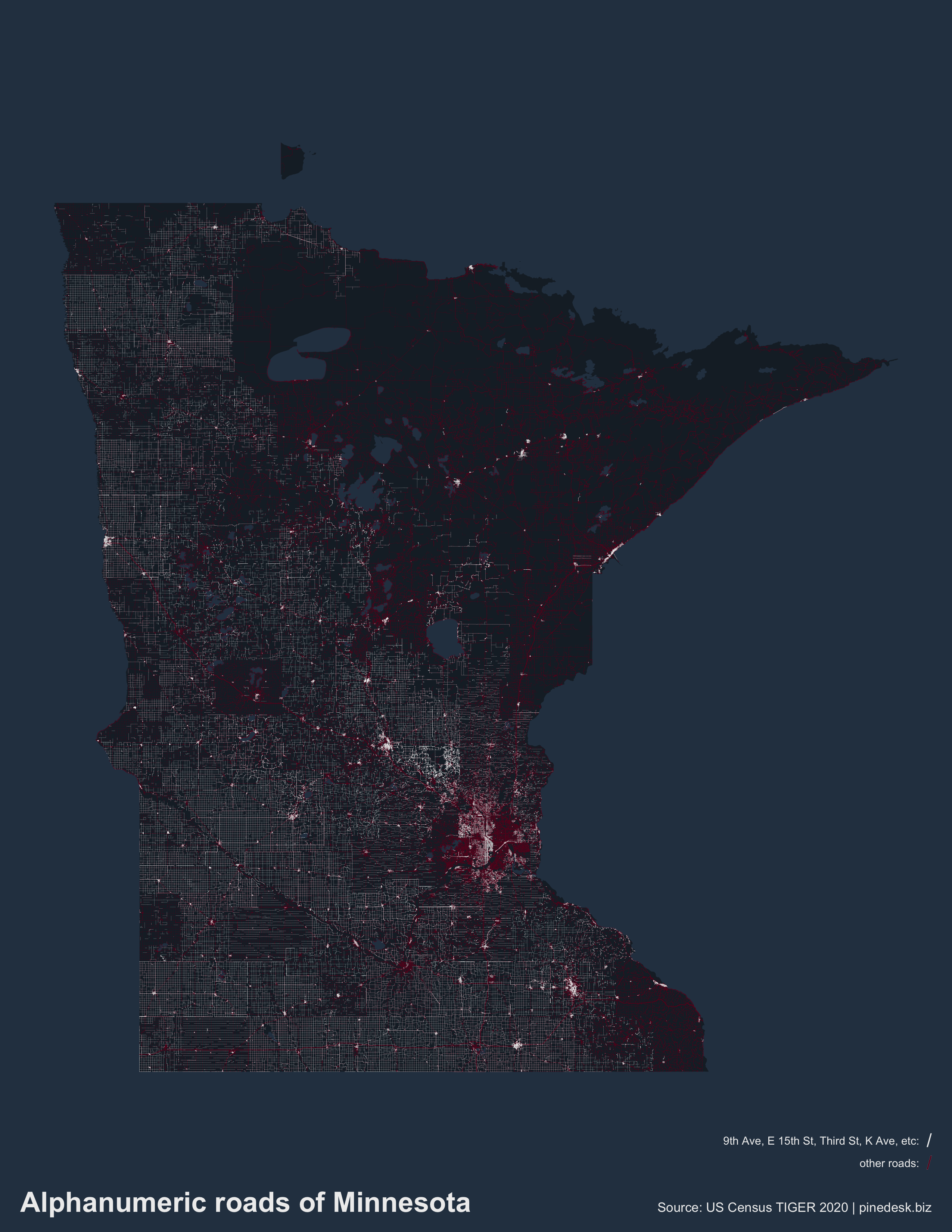 Other Places and thoughts
I generated several other maps: North Dakota, South Dakota, Illinois, Missouri, California, District of Columbia, Wisconsin, North Carolina, Florida.
Patterns I notice:
Stretches of horizontal lines, but not the corresponding vertical roads (or vice versa): upon close inspection it appears that the 'missing roads' have non-alphanumeric names. I can only presume that the roads started as alphanumeric, and over time were renamed.

Half of Chicago is numbered, and the other isn't! Apparently the naming convention was introduced in 1908, and was a contentious process. I can only imagine this process could be applied to any municipality across the country.

Some states are filled to the brim with gridded streets, and others aren't. I suspect the lack of hills has something to do with this difference in pattern.

In my home State of North Carolina there are not many of these kinds of roads. Two noteworthy areas with large numbers of alphanumeric roads in NC: Hickory as of 1951, and the Mattamuskeet Ventures Farm Project in Eastern NC.
I'd probably have to read many books like From Footpaths to Freeways(history of MN roads) to arrive at a clear idea of how these roads came to be the way that they are.